Industry Certifications
Dorner conveyors are designed to satisfy a variety of industry requirements and regulations. We offer BISSC, CE and Cleanroom-verified* conveyors.
Global Capabilities
All Dorner products are CE certified and use metric hardware
All products are RoHS compliant
Electrical controls and gearmotors are available in local designs and voltages
Hygienic Designs
Dorner's AquaGard and AquaPruf conveyors use only FDA approved materials
Designed to meet the Food Safety Modernization Act and NSF specifications and 3-A Sanitary Standards
BISSC Certified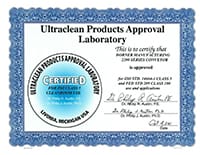 Cleanroom Verified*
*To verify clean room requirements, an unloaded base conveyor was tested and did not generate particulate that would be beyond the specified standards. However, the verification does not provide assurance that any or all applications will meet this requirement. Application testing is recommended to ensure clean room standards are being met. Dorner takes no responsibility in the clean room performance of the final conveyor or application.